My friend helped me choose a cell phone. She's young, hip, totally mobile, plugged in 24/7, surly and about 26-months pregnant, give or take a month.
I didn't want a phone. I still don't want a phone. But now I have a phone. It doesn't matter the type of phone I have now. The type of phone is beside the point. What I need to reconcile with is the fact that I vowed to never have a phone. I broke my vow.
WHY WI-FI
I have a band. For the past few years we'd rehearse in my bunker – the true nexus of my small universe. Then, gradually, overtime things became unmanageable. One day the forklift fell down the stairs. That was the forklift that broke the camel's back. So now we have rehearsal space in a commercial building that, at one time, was a funeral home. It's quite cavernous. Aside from rehearsal space, it has become my new HQ for all things related to building a media empire one click at a time. This means I spend more time out of my bunker and more time in my funeral home.
Recently, I made some sketchy arrangements through an online buy and sell network to hock a rather expensive piece of equipment. A musician was coming by from a considerable distance to buy a mixer. Date and time were set. I was to meet him at the Funeral Home.
I arrived. He did not. I waited. While I waited, I cleaned up the joint a little. Three hours. I didn't have a phone. I considered driving home to the bunker to check messages on my computer but was certain that the minute I left to check my messages on my computer to see where he was, he'd arrive at the Funeral Home, see my jeep wasn't there (which was his go-to landmark) and leave empty handed. I was tethered to the place. So, I waited.
A large empty cardboard box from a massive speaker was sitting upright by an old candelabra. I took it a placed it against the wall. The speaker itself came with those odd little sacs of packing salt – like bean bags. I had nine of them. So, I started tossing the bean bags into the box. It was actually relaxing except for the part when I had to walk to the box, bend and pick them up and walk back to the spot I felt was a reasonable distance from the target. Remember, the Funeral Home was quite large in its heyday. I was banking some amazing shots. I was in a total zone. I was spinning and shooting while jumping and getting some incredible air time. My longest was about 13 seconds. It could have been longer if not for the spinning ceiling fan then, damn, out of nowhere I hear "Hey man!" just as I'm launching my salt sac from totally across the room. It was my guy that I had been waiting for. I looked at the clock. It was now 3.5 hrs after the agreed upon time. I lost myself in my game for 1.5 hrs.
He says: "You get my message?"
I said: "Uh, no. I don't have a phone."
Turns out he got a flat and had to change it on the side of the road, which led to some butterfly effect and a host of comedic events, all of which accounted for his lateness.  So, now I have a phone.
My young, surly very pregnant friend made it happen. I picked her up from her workplace and brought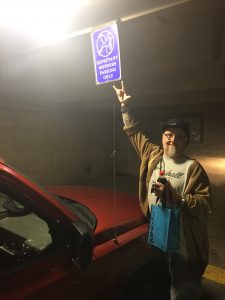 her to the mall. I took full advantage of her pregnant status to score a prime parking spot right at the entrance. She waddled as I shuffled.
In less than 15 minutes I was locked into a 36-year plan somehow. I dunno. I wanted my number to be 666-666-06666 but nope. Now, I don't know if it was just the fact that his number was already taken by a Satanist, or if it was just not an option. The young woman that sold me the phone seemed to relate better to my surly pregnant communications advisor. They talked about having kids while I signed whatever was passed to me. It was so exquisitely boring and exhausting, but it was all coming together. The phone came in a free little box in a free little bag. Those were the only freebies.
"The first thing that I'm going to do with this phone is lose it, you do realize?" I asked my surly pregnant friend.

"Maybe I should get a fanny pack? Can you help me pick out a fanny pack?"

"Shut up," she said.
Since I've had this phone I've lost it six times. Once it caught fire. Not sure why. Then I managed to cut it in half while making a massive ham sandwich. Then I fixed it. Then I bought some type of disaster proof case for it. It was hard to put on. I dropped the phone while trying to disaster proof case on it. Broke it. Ironic. Then I had my friend fix it with his welder. I also had him weld a chain to it so I can wrap it around my waist. I don't want the phone, but it is coming in handy. There is this thing on it that tells me my blood pressure is dangerously high. Go figure. I turned that thing off. It kept making high pitch whistling sounds.