It was a beautiful summer's day when a friend and I decided to go out boating. The lake was calm, and the boat motionless as we bathed in the sun's rays for a few hours.
When we arrived home from our boating expedition my friend started to stumble all over the place as if she were intoxicated; however all we consumed that day was fruits and water. What she was experiencing was heat stress.
According to Canadian Centre for Occupational Health and Safety:"In all instances, the cause of heat stress is a working environment which can potentially overwhelm the body's ability to deal with heat."
When the body fails to maintain its standard body temperature of approximately 37°C/98.5°F, heat stress symptoms start to develop.
There are many determining factors that cause heat stress, whether it's humidity, sunshine, labour-intensive activity, i.e open-pit mining, road repair, etc. In addition, heat stress can be triggered by everyday tasks.
Here's a list of illnesses that are related to heat stress:
Heat Edema
Many people have experienced heat edema, which is the general swelling of the hands and/or feet when exposed to heat for an extended period of time.
Heat Rashes
Heat rashes are red itchy spots on the body that occur predominantly in hot and humid environments. They are the result of blocked sweat glands.
Heat Cramps
Heat cramps are a result of a salt deficiency (electrolytes). Electrolytes regulate our nerve and muscles function, our blood, our body's hydration and our tissue regeneration. Therefore, a lack of electrolytes can result in sharp pains in the muscles and cannot be treated by drinking water. The best remedy would be to stay cool and drink an electrolyte replacement drink (e.g. juice, sports drinks etc.).
Heat Syncope
Heat syncope is when there is a lack of blood flow that reaches the brain due to a long period of standing in a hot environment. This illness induces dizziness and fainting.
Heat Exhaustion
Heat exhaustion leads to heavy sweating, dizziness, weakness, blurred vision, nausea, vomiting, breathlessness and thirst, all symptoms due to the lack of water and salt within the body.
Heat Stroke
Is when the body temperature reaches a dangerous level. Individuals should seek help immediately. (A detailed article will be coming out later this week regarding this illness.)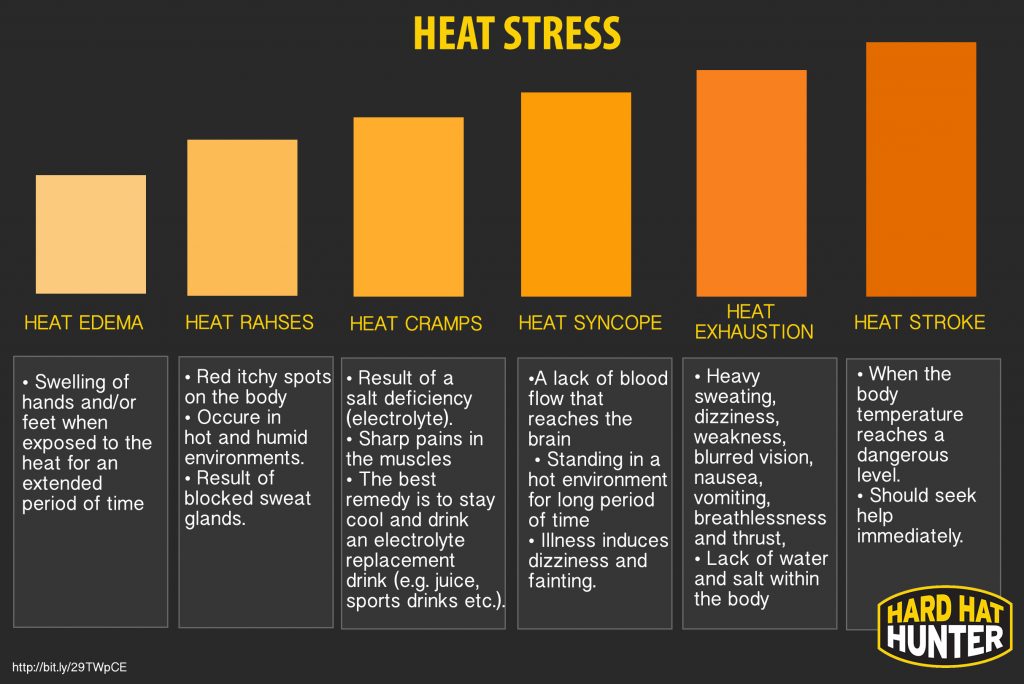 Working safely in hot environments is more than just about drinking lots of water, it's wearing the right clothes, knowing heat stress symptoms for both yourself and others around, moving to a cool area when required and drinking juice and/or sport drinks for those who lose lots of sodium through perspiration.
Your safety always come first. If you need that extra break, take it.
Adele St-Pierre is a recent graduate of Canadore College's Marketing Communications Program. She is pursuing her passion and continuing her education at Ryerson University in the Graphic Communications Management Program.