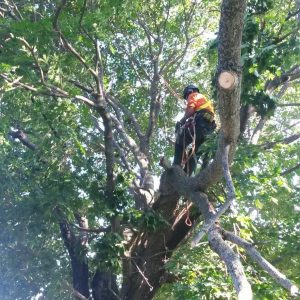 Acrophobia (a fear of heights) is one of the most common phobias. Studies show that approximately 3% of the world's population experience this fear.
I don't know that I would necessarily say that I'm afraid of heights, I'm just not a fan. Tall balconies make me slightly anxious, I'm far more comfortable with my two feet firmly on solid ground.
But the same can't be said for my brother, Paul. Paul's always been somewhat fearless; most of his childhood antics ending in stitches, road rash, and great stories. So naturally, when it came to career-selection, Paul became an arborist. It was a perfect fit: he got to do what he loved, be active and be outside in nature, but he also earned a valuable career that literally took him to new heights.
The thought of operating a chainsaw 20ft in the air does not sound appealing to me, but it's how my brother makes his living. And he loves it- he loves talking about it. He'll gladly tell you all about how he climbed a 60-ft pine the other day, or how he and the team from work recently took down an enormous ill-placed birch.
You can see it in the quality of his work; can hear it in the passion in his voice. This is his calling. This is what he was meant to do.
My advice to you today is to follow in my brother's footsteps. Do what makes you happy. Work with your hands. Get dirty. Accomplish something. Build something. Find your tree and climb it.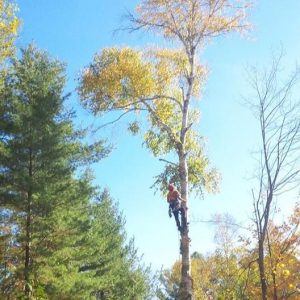 All photos courtesy of Paul Rancourt.