Who
Dionne Drew – Click on my name to see my profile and add me to your crew!
What
I am a 'safety weirdo' at heart. A term I use with respect, it is what I call myself. Let's face it we must be weird to 'choose' to be one. My evolution has seen me be now days more involved in the leadership and culture space than the traditional role. I work with various consultancies who focus on the human side of safety. Plenty of rules and procedures out there. The people are the solution not the problem. We help leaders and the workforce to understand that and to give them strategies to use that fact. My own  Hard Hat Mentor consultancy is focused on supporting those in remote work environments such as FIFO. #RockinFIFO for background here. So excited to be announcing a platform everyone can access for free soon for a broader reach here. It is very close to my heart. Stay tuned on that one!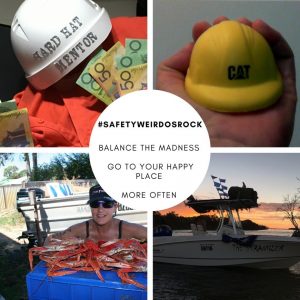 How Long
I have been a boots on the ground worker and now play with the big boys as a consultant. First day on a mine site was my 18th birthday literally. I am now 50! You can do the maths. Love it, won't do anything else, am more at home in the middle of no where in a donga than anywhere else.
Where
I have worked both domestically here in Australia and internationally in such places as Canada and Costa Rica. 98%  in the resources industry on FIFO sites from mining to oil and gas.
Why
I was nearly killed 3 times, cyanide poisoning just one example back in the day when 'safety' was interesting to say the least. Now I want to pass my hard earned lessons forward to help others to help themselves. On a positive note many of us 'thrive' in FIFO not just 'survive' so want to pass on how we do that too to help others.
For Fun
When not at work I love to be on or near the water, crabbing, fishing, kayaking, boating. Love camping just as much. Take our quad bikes with us to explore.